Time to Climb is a multiple-choice quiz game that can be played in Live or Student-Paced lessons. It's a great way to bring joy and excitement into your lesson, while reviewing material.
In this article, you'll learn how to:
You can access lessons with pre-made Time to Climb quizzes here, or follow the directions in this article to create your own.
---
Teach with Time to Climb
1. When you reach a time to climb in your lesson, you will be prompted to choose your theme. In addition, you will be able to toggle on/off the following: randomize answers, pause game between questions for discussion, and play sound on all student devices. Click continue when you're done.
2. Once you have chosen your theme and customized options students will be prompted to choose a character. In Live Participation mode, students will wait for you to start the game. In Student-Paced mode, the game will start automatically for each student once they have chosen their character.

3. Once the game begins, students will see the multiple-choice questions on their devices. They'll get instant feedback on the correct answer. They will earn points for answering with speed and accuracy.

4. While students are completing the quiz game, you can view the leader board in real-time. Students will be able to see their character race up the mountain.

5. At the end of the game, all students will see the students with the 3 highest scores on a podium.

Convert your existing quiz into a Time to Climb
To save time, you can convert your existing Nearpod Quiz into a Time to Climb game! Here's how:
1. Edit the lesson that contains the Quiz you'd like to convert
2. In the upper right corner, click "Convert to Time to Climb"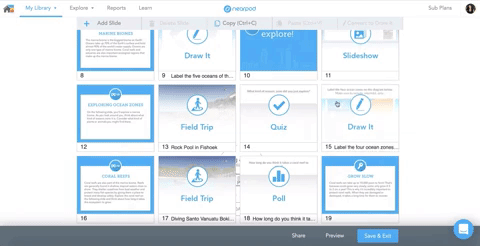 Please note: Reference media and more than one correct answer will not be transferred. Quizzes with question and answer character lengths that exceed the maximum, and quizzes with more than 4 answer choices cannot be converted.
Create your own Time to Climb quiz game
Here's how to create your own Time to Climb quiz game:
1. While editing your lesson, select "Add Slide".
2. Choose Time to Climb from the Activities tab.
3. Enter your questions and answer options in the spaces provided - be sure to indicate the correct answer and select how long you'd like students to have to answer. If there is more than one answer, click the checkmark on both options. You're able to add up to 4 answer options.
You can add a reference image and you can select for answer choices to be images or text.
4. Continue to add questions using the "+Add Question" button at the bottom until your quiz is complete, then save your work!
How to mute the music in Time to Climb
When facilitating Time to Climb in a lesson that was launched in Live Participation mode, the instructor has the option to mute the music for all devices at the start of the game. Turning the toggle on enables the sound and turning the toggle off disables the sound. With the music muted, you will not hear the game sounds from your device nor your students' devices.
If you have multiple Time to Climb activities embedded in your lesson, you will have to control the volume at the start of each game.
Note: this feature is not yet available for lessons launched in Student-Paced mode.